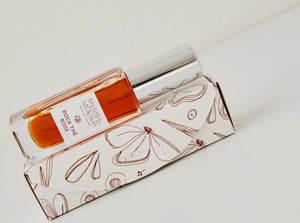 graceful myrrh surrenders expectation to sandalwood,
a posy of purple flowers in her hair,
mandarin and ginger on her breath,
the dance of roses in her heart.
concentration: eau de toilette (lighter than parfum), rests on the skin for 6-8 hours. 

materials: myrrh (Somalia), frankincense boswellia serrata (India), Sandalwood (Haiti), rose absolute (Turkey), black pepper (India), mandarin (South Africa), ginger (Madagascar), neroli (Madagascar), petitgrain (Paraguay), alcohol denat. 
packaging: bespoke box