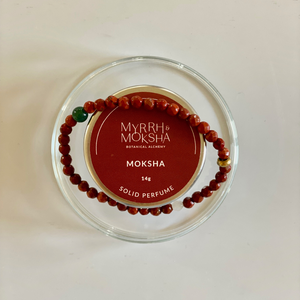 semi-precious stone bracelet with red jasper, moss agate, rose quartz, placed into a future felt SCOUTS pouch, alongside moksha solid fragrance (includes characterised scent card).
semi-precious stone jewellery, created exclusively for M & M.
Only available to purchase alongside selected solid perfumes.
*M & M jewels are exclusive to online purchases.
Jewels collection designs by M & M. Hand strung on strong stretch cord by South African based artisan, Live Light.